Seattle Sightseeing Tours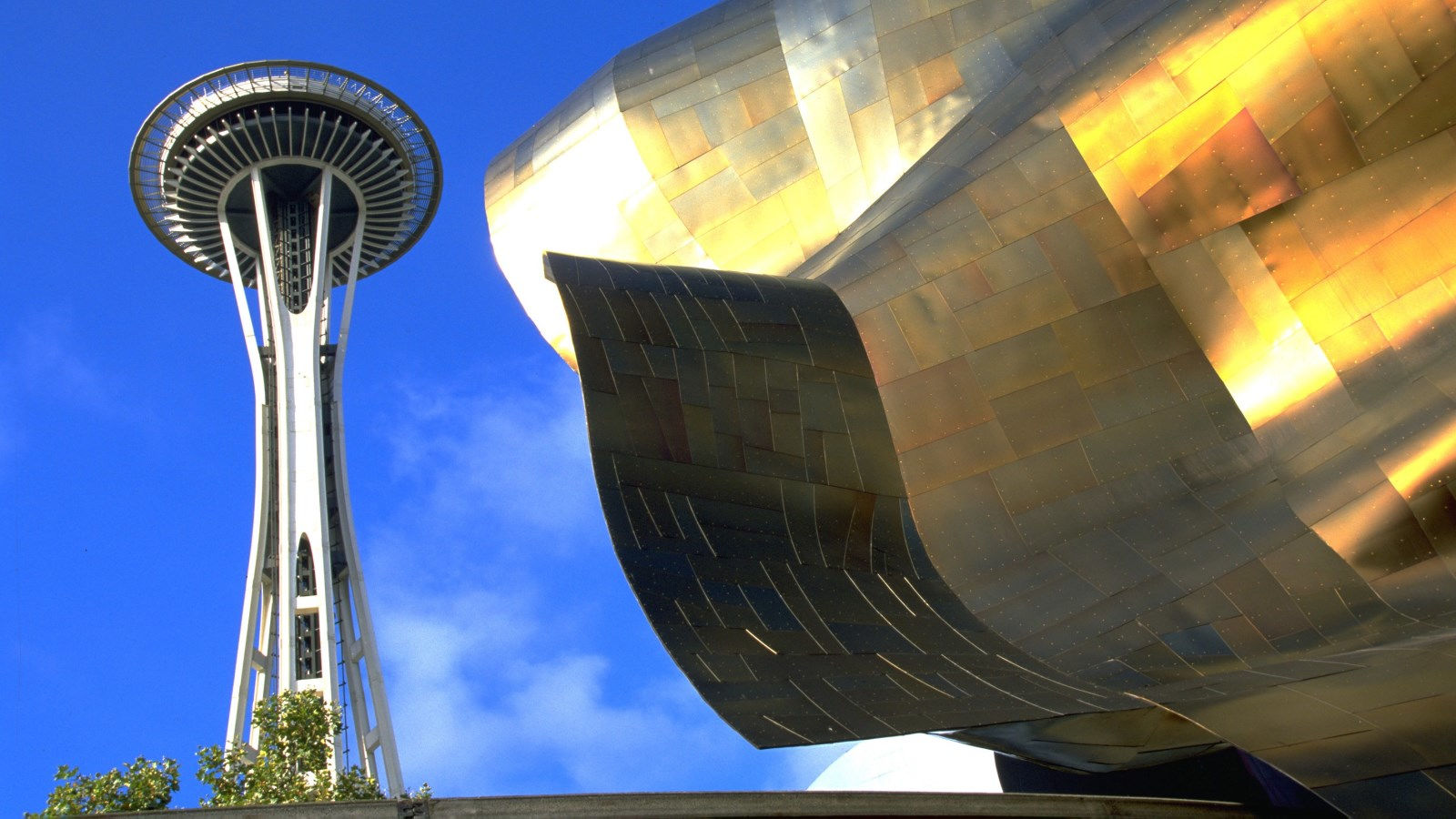 One of the most beautiful and exciting cities in the world, the Emerald City offers many fun Seattle tours. Join a walking tour of downtown Seattle or cruise along the Seattle Harbor and Puget Sound to discover the captivating sights, sounds and scenic splendors of Seattle. Discover the highlights of Seattle on one of the city's walking, bicycling, bus, boat, food and kayak tours. Hop aboard one of the Seattle sightseeing cruises and boats on Elliott Bay and the Puget Sound. Experience a Seattle adventure tour to Snoqualmie Falls, Olympic Peninsula, Mount Rainier and the Woodinville Wine Country. Enjoy Seattle sightseeing tours that give you the fun, fashion and flavor of Seattle.
Seattle City Walking Tours - Experience the Emerald City on unique walking tours that blend culture and coffee. Downtown Seattle offers many relaxed walking tours, including Seattle's Original Coffee Crawl. Join the Pub Crawl to discover Seattle's microbrews and trek off the beaten path on the Funky Fremont tour. The city's most popular stroll is the Seattle Waterfront - from Pioneer Square to Pike Place Market. Visit Pike Place Market, Rachel the Pig, Steinbrueck Park and the Market Heritage Center. Enjoy walking tours of Pioneer Square with interesting shops, art galleries and historic buildings like Smith Tower. Take the Seattle Underground Tour to learn about Seattle's Gold Rush heritage. Walk through the Fremont District, Seattle's eclectic neighborhood with art galleries, cool cafes, unique shops and Fremont Sunday Market.

Seattle Food Tours - Join a Seattle food tour for Seattle's most delicious culinary adventure. Seattle Food Tours is a guided walking tour through the heart of Seattle's culinary scene, the Pike Place Market. This tasty cultural Seattle tour pairs colorful tales of the market, its history and merchants, with delicious gourmet food and America's best chowder. Seattle's "insider" culinary and historic tour, Seattle Food Tours gives you a 2 1/2 hour walking tour of Pike Place Market - where fun, food and fish come to life.

Ride the Ducks of Seattle Tour - Ride the Ducks of Seattle and tour Seattle's famous attractions and hot spots on land and water. Explore the Emerald City on a WWII amphibious landing craft along the waterfront and across Lake Union with amazing views of the Seattle skyline. Your captain shares fun tales about the sights of Seattle you will encounter, like Century Link Field, Safeco Field, Seattle Waterfront, Pioneer Square, and Pike Place Market. In the Fremont district you will splash down into Lake Union and see Gasworks Park.

Seattle Mini Bus Tours - Enjoy exciting Seattle bus tours through downtown Seattle, Seattle Waterfront, Pioneer Square. You will pass through many unique neighborhoods, like Chinatown, Queen Anne, and Fremont, and enjoy outstanding views of the city. Visit Ballard Locks with ladders for the spawning salmon, see the Giant Bridge Troll, and eye the famous "Sleepless in Seattle" floating home. As you drive through downtown Seattle, you'll learn about Pike Place Market and the first Starbuck's. These Seattle sightseeing tours pick you up right from the Sheraton Seattle.

Victoria Clipper - Departing from Pier 69 on the Seattle Waterfront, Victoria Clipper catamarans offer day and overnight sightseeing excursions to British Columbia and the enchanting San Juan Islands. Enjoy amazing scenery of the Washington coast as you ride the waves to the charming city of Victoria. Take a relaxing cruise to the San Juan Islands and enjoy stunning views of the Olympic and Cascade mountain ranges, evergreen forests and peaceful island towns, as well as dining and shopping in Friday Harbor. During the summer, the Clipper offers Orca Whale watching trips.

Mount Rainer Tour From Seattle - Experience the wonders of nature that surround Seattle. Take an exciting tour of Mount Rainier - our country's third tallest peak - and see glaciers, wildflowers, waterfalls, and wildlife of this majestic 14,411-foot mountain. Enjoy a scenic drive from Seattle to this pristine alpine wonderland and explore America's most beautiful mountain. Visit the tour center at Paradise or Sunrise, take a scenic stroll through flowery meadows, hike through forests and cascading waterfalls, and spot deer, elk, birds, and bears.

Argosy Cruises - Departing from the Seattle Waterfront, Argosy Cruises is one of the most popular Seattle sightseeing tours. Enjoy a narrated 1-hour tour of the vibrant and historic Seattle Harbor with endless skyline views from outdoor decks. Highlights of this fascinating Seattle tour are the colorful waterfront, city skyline, one of the world's largest shipping terminals and the Cascade and Olympic mountain ranges. In addition to the Harbor Cruise, Argosy offers the Locks Cruise, Seattle Lake Cruise and Tillicum Village Cruise, as well as dinner cruises and themed cruises.

Washington State Ferries - Board the Washington State ferries to the historic and beautiful destinations on the Puget Sound. Enjoy panoramic views of the Washington coast, Olympic and Cascade mountain ranges, and the Seattle cityscape. The Washington State ferry system takes passengers from Seattle ferry terminal to Bainbridge Island. From Anacortes, you can cruise to the San Juan Islands, or British Columbia, Canada.

Downtown Sheraton Seattle Hotel with Tour Desk - A modern, high-rise hotel in the heart of downtown Seattle, the Sheraton Seattle is your gateway to Seattle sightseeing tours. Set in the heart of downtown Seattle, our luxury hotel offers spacious accommodations with views of the city, two restaurants and bar, a fitness club with a pool, business center, expansive meeting space, a retail shop, and a cool Wi-Fi lobby. Located in the heart of all the action, this spectacular Seattle hotel features a year round concierge desk in the lobby that will arrange Seattle sightseeing tours and cruises. The Seattle bus tours stop right in front of the hotel!
Check out more things to do in Seattle, and get a glimpse of Seattle's beauty, vibrancy, warmth and energy by watching the Seattle destination video on VisitSeattle.org.