A Modern Hotel Moments from Pike Place Market
EXPLORE DOWNTOWN SEATTLE'S TOP SHOPPING
Sheraton Seattle Hotel conveniently places travelers near some of Seattle's best shopping. From bustling shopping malls to waterfront promenades to local boutiques, there exists a wealth of retail opportunities in downtown Seattle. Venture to Pioneer Square, a quaint neighborhood brimming with art galleries, trendy shops and one-of-a-kind bars and restaurants. Alternatively, make your way over to the nearby Pike Place Market, the nation's oldest farmer's market where artisans across all industries showcase their wares.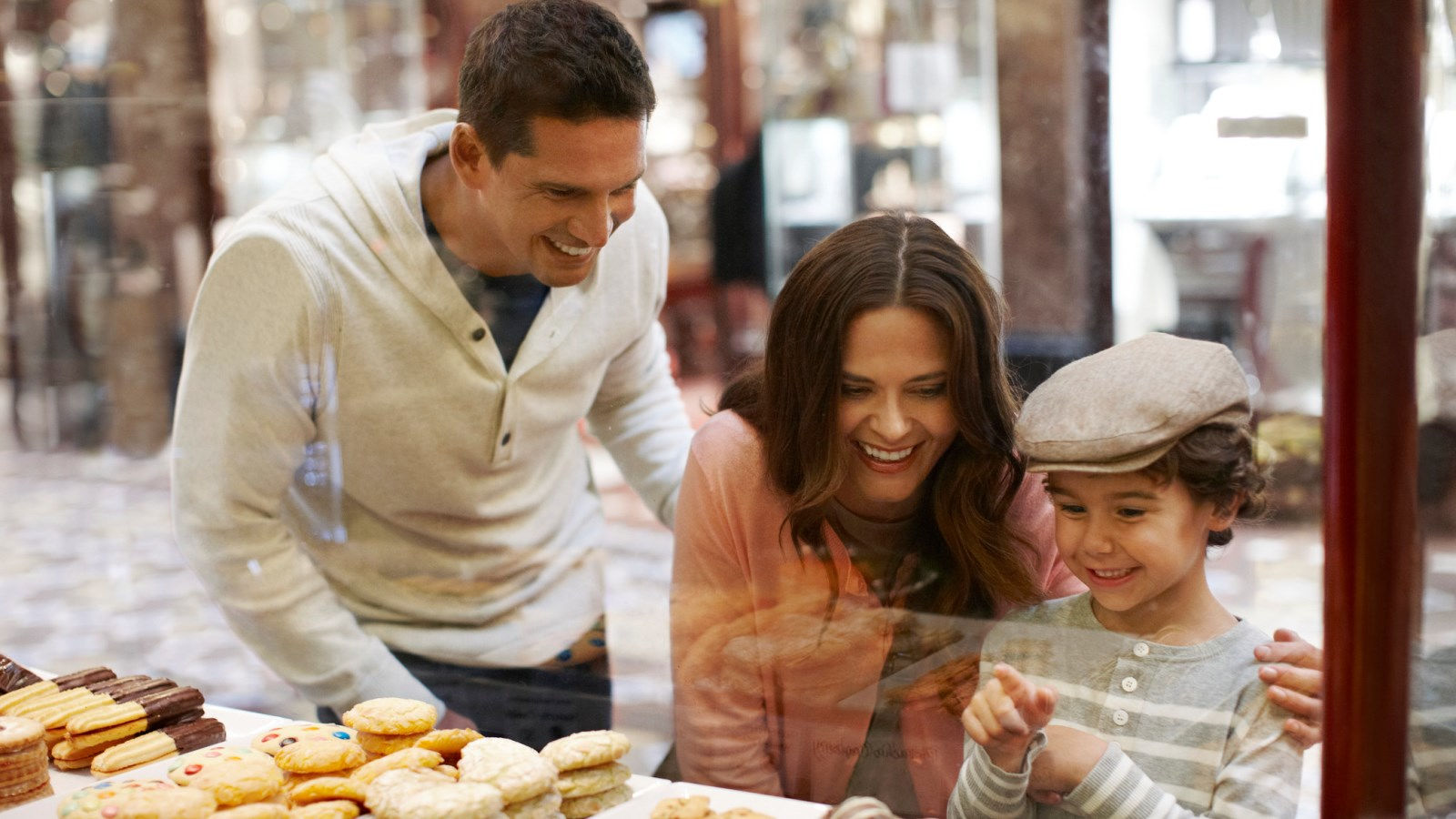 Pike Place Market - The heart of Seattle's Waterfront, Pike Place Market is the city's most iconic shopping and dining experience. Ideally located near our hotel, just a short walk away, Pike Place Market offers visitors a truly one-of-a-kind experience. Stroll through historic buildings and browse aisle after aisle of fresh fish, vegetables, fruits, flowers, artisan cheeses, meats, baked goods, arts and crafts and antiques at the nation's oldest farmer's market. This colorful, nine-acre marketplace features hundreds of stands, stalls, shops, and booths, as well as live music and waterfront views. The playful antics of the fishmongers at Pike Place Fish are legendary.
Visit www.pikeplacemarket.
Macy's - Sheraton Seattle Hotel is proud to be the holiday shopping partner of Macy's. With multiple floors of men's, women's and kids' clothing as well as expansive shoe, houseware, furniture and cosmetics departments, Macy's is a major downtown shopping destination. Featuring elaborate holiday window displays and Macy's Santaland®, this iconic department store is a not-to-be-missed holiday shopping fixture.
Nordstrom Flagship Store - Situated on Fifth and Pine, the Nordstrom flagship store is the high-end retailer's largest location, encompassing 383,000 square feet of shopping bliss. Featuring upscale men's and women's clothing, shoes, housewares, jewelry, and cosmetics, Nordstrom is the anchor of downtown Seattle's shopping district. Shoppers can take advantage of the personal stylist program, enjoy a relaxed lunch at the Nordstrom café or unwind at Spa Nordstrom.
Pioneer Square - Seattle's oldest neighborhood, Pioneer Square is a one-of-a-kind shopping district located a short distance away from our hotel. Nestled within its historic buildings are eclectic shops, art galleries, plus an array of furniture, antique and book stores. Visit shopping landmarks such as Grand Central Arcade, a European-style shopping arcade with interesting shops and studios, or discover Pioneer Square Antique Mall. Join the Art Walk and stroll through the galleries at night.
Westlake Center - Seattle shoppers flock to Westlake Center, a high-energy downtown Seattle shopping mall in the heart of the city. Westlake Center is a four-story, glass enclosed shopping pavilion offering a mix of national retailers and a unique collection of shops, and a great Food Court on the Upper Level. Enjoy shopping in downtown Seattle at Sunglass Hut, Romy Boutique, or grab some dinner at P.F. Chang's China Bistro.
Seattle Waterfront & Miners Landing - The vibrant Seattle Waterfront is lined with many eclectic stores, shops, outlets, antique markets and gift emporiums. Enjoy shopping at waterfront stores such as Seattle Antiques Market, Pier 55 Shirt Company, Seattle Aquarium Store, The Leather Bag Outlet, The Yukon Shirt, Exclusively Washington, and Simply Seattle. Located on Seattle's Historic Waterfront on Pier 57, Miners Landing is the home of an array of shops and restaurants like Pirate's Plunder Imports, Zongo Gifts, The Sports Den, The Crab Pot, and Fisherman's Restaurant.
Pacific Place - Downtown Seattle's fashionable shopping, dining and entertainment center, Pacific Place features designer stores, shops and boutiques including Tiffany & Co., Ann Taylor, MaxMara, True Religion Brand Jeans, Coach, J. Crew, Chico's, Helly Hansen, L'Occitane, Barnes & Noble, Williams-Sonoma and the AMC Theatres. Walk the connecting Skybridge to the flagship Nordstrom. Pacific Place is Seattle's hotspot for fashion, food and film. Enjoy the magical holiday decorations in December.
Rainier Square Upper Fifth - A hip Seattle shopping, dining and entertainment destination in the heart of the Emerald City, Rainier Square Upper Fifth offers fashion's finest including Louis Vuitton, Brooks Brothers and St. John. Whether shopping for a stylish outfit or a special gift, Rainier Square features upscale boutiques, shops and galleries such as Northwest Pendleton, and Fox's Gem Shop. Enjoy entertainment, fashion, and art on Upper Fifth, or sit back at a relaxing café or restaurant.
International District - Chinatown - Located at Maynard Ave. and Weller St, this exotic shopping in Seattle transports you to the sights and aromas of Asia. Experience a colorful Seattle neighborhood of unique shops, restaurants and cafés that represents many international cultures, including Chinese, Japanese and Pacific Islander.
Hotel Close to Downtown Seattle Shopping
Located in the heart of downtown Seattle, Sheraton Seattle Hotel is situated near the city's top shopping districts and marketplaces, including Pioneer Square and Pike Place Market. After a fun day of shopping, unwind in our spacious guest rooms and suites, many of which feature panoramic views of downtown. Enjoy classic American cuisine at Daily Grill Restaurant, have a martini in Fountain Wine Bar and Lounge, get energized in our Sheraton Fitness Center or stay connected in our cool, high-tech lobby.
Check out more things to do in Seattle, and get a glimpse of Seattle's beauty, vibrancy, warmth and energy by watching the Seattle destination video on VisitSeattle.org.