Transportation Options to and from Sheraton Seattle Hotel
Centrally located in downtown, getting to Sheraton Seattle Hotel is simple with frequent airport shuttle service, taxi service, car rental companies, or Seattle's local transit system. Contact our hotel team at 206-621-9000 for more information or to assist with making transportation arrangements.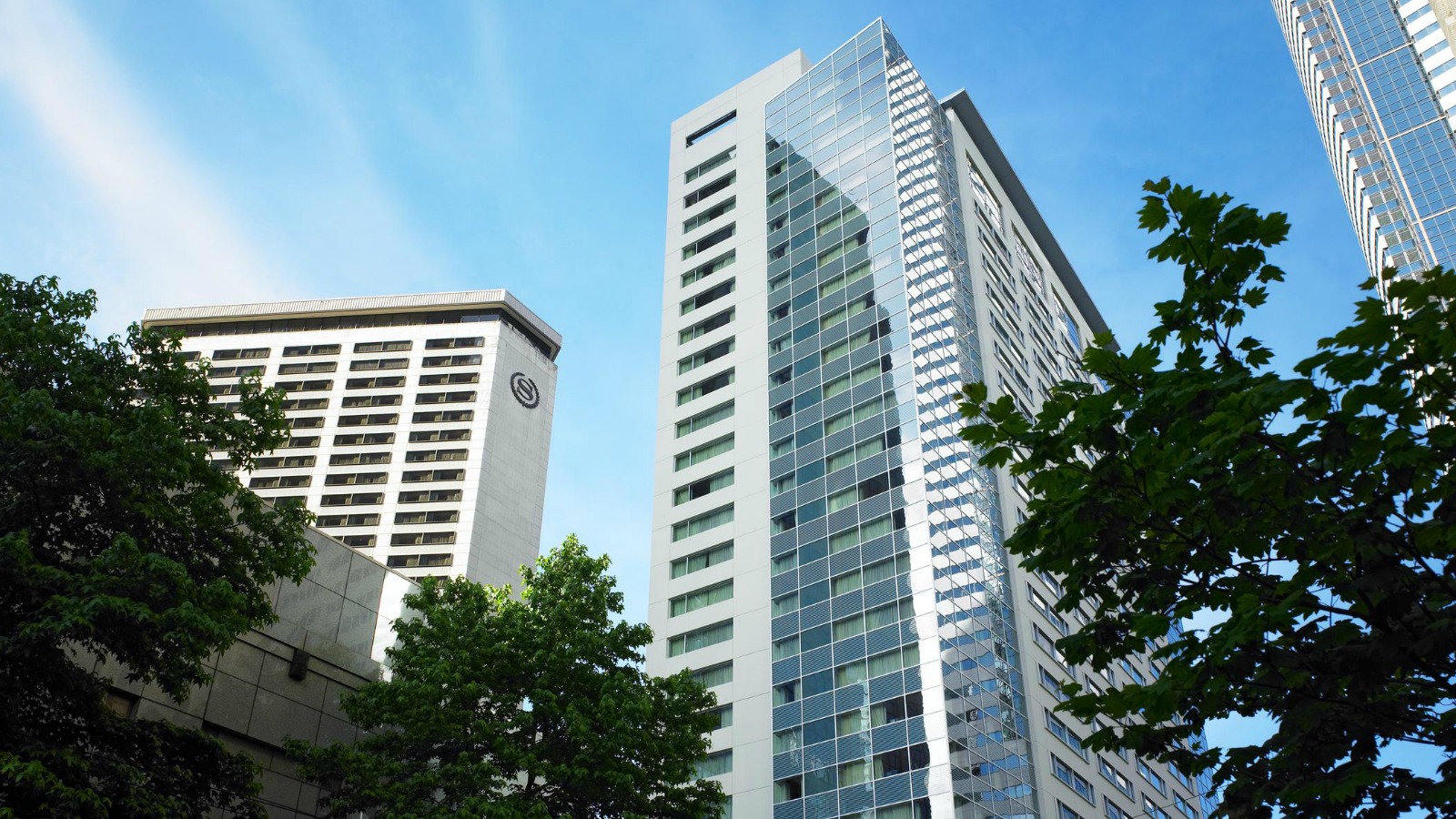 Note: Estimated charges, fees, and schedules below are not guaranteed by hotel. Travel distance may be affected by local conditions and traffic.
Driving Directions
Valet Parking - $57 USD per day
The Sheraton Seattle is located at 1400 6th Avenue in Seattle, Washington. Use the form below to get directions to plan your next trip. For questions or for more information call us at 206-621-9000.
Getting Here
Seattle/Tacoma International Airport (SEA): Approximately 25.75 km/16.0 miles
Taxi
Taxi service is readily available at Sea-Tac Airport on the third floor of the parking garage
Taxis are available at the front drive of the hotel 24 hours a day
Downtown Airporter by Shuttle Express
Downtown Airporter departs from Level 3 of the parking garage, island 2. Follow the signs to ground transportation, taxis, limos, hotel shuttles on the third floor of the parking garage. For additional information, please click here.
Adults: Roundtrip is $36 USD; children 17 and under ride free (one per paying adult); additional youth ride at adult price.
Hours: Departures from SeaTac Airport and downtown Seattle 24-hours day, every day. Leaves SeaTac Airport approximately every 30 minutes. Service on-demand during off peak times, reservations are recommended.
For more information or to make a reservation: (855) 566-3300
Preferred Shuttle Express Town Car Service
One-way to/from airport starts at $59 USD
To make a reservation for pick-up/drop-off, please click here.
Light Rail
Guests can ride Sound Transit's Link Light Rail from downtown to the airport
Cost: $2.75 each way
Time: 35 minutes each way
PRIVATE CAR SERVICE
Sheraton Seattle Hotel can make arrangements for a limo, sedan, or van service for your arrival and departure. Rates are by hours needed, vehicle type, and number of passengers. There are a variety of rental car companies within close proximity of the hotel and of Sea-Tac Airport.
RAILWAY
King Street Station
Travel Distance: Approximately 3.22 km/2.0 miles from Sheraton Seattle Hotel
A taxi from King Street Station to Sheraton Seattle is approximately $5 USD
PORT
Pier 69
Travel Distance: Approximately 1.61 km/1.0 miles from Sheraton Seattle Hotel
Taxis are available at the Pier 69, the Colman Dock ferry terminal, and at cruise ship terminals
A taxi from Pier 69 to Sheraton Seattle Hotel is approximately $10 USD
BUS
Greyhound Bus Station
Travel Distance: Approximately 0.4 km/0.25 miles from Sheraton Seattle Hotel
A taxi from the Greyhound Bus Station to Sheraton Seattle Hotel is approximately $3 USD
RENTAL CAR
Dollar Rent A Car: (206) 682-1316
Hertz Car Rental: (800) 654-3131
Budget Car Rental: (800) 527-0700
National Car Rental: (800) 227-7368
Avis Rent A Car: (800) 331-1212
Thrifty Car Rental: (206) 624-1133
Off-site self-parking passes are available to purchase at the Sheraton Valet Booth. The self-parking rate is $30 per night. Please keep the pass in a safe and accessible place, away from electronic or magnetic devices. The pass can be used up to three (3) times to exit the facility before it expires on the day of your checkout. If additional exits are required, please see the Sheraton Valet Podium.
Self-Parking
Instructions for using the self-parking pass:
When you enter the garage, take a white "entrance ticket" from the automated ticket dispenser. You will need this ticket as well as your Parking Pass to exit the facility. We recommend that you store this ticket in your vehicle, along with the parking pass purchased from the Sheraton Valet Booth.
When exiting the facility:

Insert the white Entrance-Ticket into the automated machines that are located adjacent to the exit gates.
Once a price appears on the screen, insert the parking pass into the machine.
After processing the transaction, the device will return the parking pass (up to 3 uses; after the 3rd use, the pass will not be returned).
Remove the parking pass from the exit device and the gate will open.
Overnight and After-Hours Access
For overnight and after-hours access please contact, in this order:
To reach on-site security, please call 206-643-0864.
To reach Ace Parking Call Center, please call 1-866-332-4080.
To reach Sheraton Valet Parking, please call 1-206-389-5741.
During day-time business hours, on-site staff can be reached at 206-467-6991.
Please park and lock your vehicle. Ace Parking and Sheraton Seattle cannot be held liable for loss or damage to your vehicle and/or property